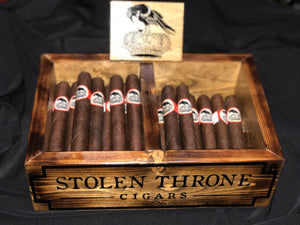 This is an amazing day! STOLEN THRONE IS BACK IN STOCK!
Stolen Throne launched last year and fast become the fastest growing and most popular new brand in the industry! They've been working with master blender Noel Rojas in Texas to create cigars that are truly phenomenal! (If you've smoked one, you understand how insanely good they are!)
Their inaugural release is Crook of the Crown...And it couldn't be more awesome! We were fortunate enough to get some samples of Crook of the Crown to smoke...and it absolutely blew us away!
Crook of the Crown features a 10-year-aged San Andres maduro wrapper. Fillers are from Indonesia and Nicaragua. INAUGURAL RELEASE COMES IN TORO AND ROBUSTO.