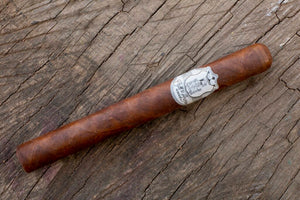 Stolen Throne CALL TO ARMS is the second release from the company and follows the EXTREMELY HIGHLY ACCLAIMED Stolen Throne Crook of the Crown. 
So these guys have set the bar pretty damn high for themselves. Fortunately...CALL TO ARMS is another ABSOLUTELY PHENOMENAL BLEND! (In fact, if you're a fan of CROOK OF THE CROWN...you just might like this one even more!)
Stolen Throne launched last year and quickly become the fastest growing and most popular new brand in the industry! They've been working tirelessly with master blender Noel Rojas in Texas to create cigars that are truly phenomenal! (If you've smoked one, you understand how insanely good they are!)
Now onto the cigar details...
Stolen Throne CALL TO ARMS is a full-bodied, med/full strength cigar wrapped in a gorgeous Sumatra leaf. Binder and filler tobaccos from Nicaragua (although the specifics are secret.) It comes in 2 sizes: Corona 6x46 and Robusto 5x50.