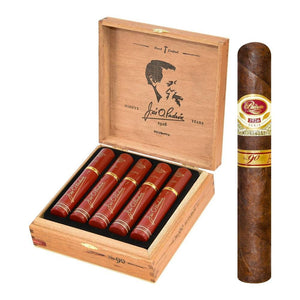 Padrón Serie 1926 No. 90
Made By:
Tabacos Cubanica S.A.
Factory Location:
Nicaragua
Dimensions:
5 1/2" by 52 ring gauge
Whether it be an anniversary or an important benchmark, it seems that the Padrón family is always celebrating something. And when they do, smokers end up with a great new cigar. The Padrón Serie 1926 No. 90 is a perfect example. It celebrates the life of company patriarch José Orlando Padrón, who turned 90 in June and is still active in the company he founded.
The cigar is Padrón in almost every way—it's dark (even this natural version), it's rich and it leaves the familiar bold impressions of cocoa, earth and coffee on the palate in the way that only a Padrón cigar can. But it's unlike other Padróns due to its shape. All other cigars in the Padrón Serie 1926 line are squarely pressed, giving the line its signature look. Not true of the No. 90. This one is in the round. It also comes packaged in a glossy tubo—another first for the company.
If you're unfamiliar with José Orlando Padrón's history, you should know this: the man has paid his dues. Over his storied career, he's had his offices in Miami bombed, his factory in Nicaragua burned to the ground and even a tobacco warehouse set ablaze. Despite this, he persevered and created some of the best cigars the world has ever seen.