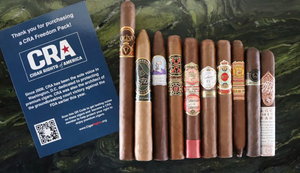 The third sampler for 2023 from Cigar Rights of America (CRA) is heading to stores.
Earlier this week, J.C. Newman Cigar Co. began shipping the CRA Freedom Sampler Fall 2023, a 10-cigar sampler that is made to help fund the cigar trade organization. Cigar companies that sit on the CRA board donate cigars to the organization, which are then sold with funds going back to the CRA.
Like past samplers, this is a 10-cigar sampler with cigars from nine companies. Generally speaking, these cigars are either limited editions, exclusive cigars or higher-priced cigars from each company.
Each sampler includes one of the following:
Oliva Serie V 8 x 52
Diamond Crown Julius Caesar Pyramid
Fuente Fuente OpusX ForbiddenX Destinao al Siglo Toro
Tatuaje 15th Anniversary Plus One Escasos
Ashton Symmetry Sublime
Arturo Fuente Rare Pink Vintage 1960's Series Signature