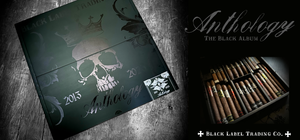 THIS BOX COMES WITH THREE FREE CIGARS FROM BLTC
Black Label Trading Company releases 
The Black Album
: A Limited-Edition Anthology of cigars, to select retailers. The Black Album cigars are hand crafted at Fabrica Oveja Negra in Esteli, Nicaragua.
"With 2023 being our 10-year anniversary, we really wanted to close it out with a bang. I've had this idea of a "greatest hits" release for a while and I think this is the perfect occasion to release it.  The Black Album is a curated selection of limited releases spanning from 2013 to the present. Each cigar represents a defining moment in our brand's history and helped build our brand into what it is today. I'm very excited for them to be available all together for the first time," said James Brown, creator of Black Label Trading Co. and partner at Fabrica Oveja Negra.
This highly anticipated anthology is a testament to our commitment to excellence and serves as a tribute to the unwavering support of our valued customers.
Country of Origin: Nicaragua

Black Album Anthology – Curated Box (24 count)
Bishops Blend – 7x42, 5x48
Deliverance Nocturne – 5x56
La Madonna Negra – 4.5x48
Last Rites Viaticum – 6x48
Memento Mori – 5x50
Morphine – 7.25x42, 5x42
Royalty Black – 5x54
Super Deluxe – 4.5x48