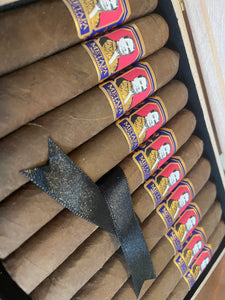 Metapa Claro by Foundation Robusto (5x50)
Foundation has already amassed numerous accolades in its short time in the cigar industry. And the mastermind behind it? Nicholas Melillo. He may be relatively young, but he's already amassed 20+ years in the cigar industry. Starting at just 18, Melillo has risen from working in a cigar shop to helping blend cigars at Drew Estate, to starting Foundation.
Produced by AJ Fernandez, "Metapa is a tribute to the poetic soul of Nicaragua," said Nicholas Melillo. An homage to the famous Nicaraguan poet, Rubén Darío, Metapa is named after the literary icon's hometown. The blend consists of Nicaraguan tobaccos encased inside a Connecticut broadleaf binder and finished inside an Ecuadorian Sumatra claro wrapper. Expect a bold, rich experience ripe with notes of leather, earth, and spice on the finish.
Wrapper
Ecuador Sumatra Claro
Binder / Filler
Connecticut / Nicaragua