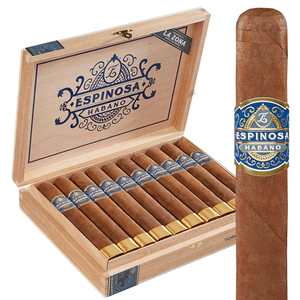 Overview
Espinosa Habano Cigars by Erik Espinosa
Cigar Aficionado's Top 25 Cigars of 2019 - No. 11 Rated 93 (No. 4 Robusto)
The line underwent a re-branded and re-blended in 2015, and since then the Espinosa Habano has scored continuous 90+ ratings by Cigar Aficionado Magazine. Owner and blender Erik Espinosa felt that the original Habano line was lacking and not where it should be and a complete re-blend was needed. Still hand rolled in his La Zona Factory in Estelli, Nicaragua this cigar has more flavor than its predecessor. 
The new blend was an instant success, thanks in part to its complex flavor profile, hearty mixture of Nicaraguan tobaccos and a lush Ecuador Habano wrapper. The result is an extremely enjoyable medium-bodied cigar that loads the senses
 with a solid leathery profile, followed by hints vanilla, baking spices and brown sugar. Erik Espinosa's 20+ years in the biz is surly showing signs of his refined skill at blending, becoming a household name in the boutique cigar making world.