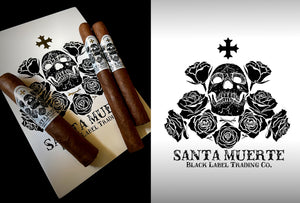 NOW REGULAR PRODUCTION, THE FAMOUS SANTA MUERTE FROM BLTC
The blend still features an Ecuadorian habano wrapper and binder, while the filler is a mix of six tobaccos that come from Nicaragua, the Dominican Republic and Mexico's San Andrés region. James Brown, creator of Black Label Trading Co. and partner at Fabrica Oveja Negra, said that those fillers create "a very unique and rich flavor profile" that he said is marked by layers of coffee, malt, spice and cocoa.
The line is produced at Fabrica Oveja Negra in Estelí, Nicaragua and offered in three sizes:
Black Label Trading Co. Santa Muerte Petite Lancero (6 1/2 x 42) 
Black Label Trading Co. Santa Muerte Short Robusto (4 3/4 x 52) 
Black Label Trading Co. Santa Muerte Corona Gorda (5 1/2 x 48) 
Two of the vitolas, the Short Robusto and Corona Gorda, have been staples of previous releases, while the Petite Lancero is a new size for the line. The return of Santa Muerte is also marked by updated artwork, as the cigars are now presented in white boxes with added silver details that were not found on the previous releases.
BUY BLACK LABEL TRADING COMPANY CIGARS AT RUDY'S SHOP TODAY!